The countdown to the launch of #Beban23 has started in #Riyadh under the slogan "Opportunity creates leadership".
A few days separate us from the Biban 23 forum, which is organized by the Main Department of Small and Medium Enterprises Monshaat.
Biban 23 will start on March 9 and end on March 13 in Riyadh under the theme "Opportunity Creates Leadership" with over 350 local and international speakers and 750 exhibitors from local and international entrepreneurs. this link.
Goals of Biban Forum 23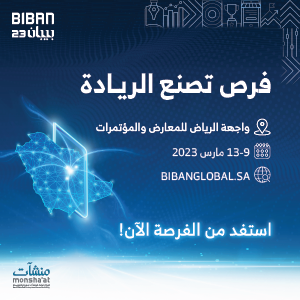 The goals of the forum are numerous, the most important of which is to create a local and global entrepreneurial network to improve communication between investors, entrepreneurs and activists, provide them with incentives and provide investment opportunities in the Kingdom.
The forum promotes a competitive environment that encourages ambitious youth to enter the world of entrepreneurship, improves communication and enriches youth with entrepreneurial ideas and ways to invest in order to achieve the Saudi Arabia Vision 2030, which aims to increase the contribution of SMEs. enterprises to GDP up to 35%.
Subjects participating in Biban 23
More than 120 organizations participate in the forum that help small and medium-sized enterprises in the areas of procedures, financing and services, in addition to the participation of 34 government agencies that provide their services in one place for small and medium-sized enterprises. Contribute to overcoming all the challenges and difficulties that may be faced by the work of these institutions in all sectors.
"Biban 23" will hold more than 300 training seminars, the number of beneficiaries is expected to be about 20 thousand beneficiaries.
Many topics are discussed at the seminars, first of all: supply chain management, strategic planning, enterprise growth, financial management, commercial franchise experience, transition to e-commerce, risk management strategy and other topics that allow male and female entrepreneurs to gain adequate knowledge about the strategic plans and operational work of their projects.
Over 100 thousand visitors
the Forum, which is expected to be attended by over 105,000 people; 9 doors designed to meet all the requirements of SME owners and entrepreneurs in various sectors, as the doors include: start-up door, growth door, empowerment door, e-commerce door, financing door, innovation door, new door companies, the door to commercial franchising, So is the door to the market.
The Biban 23 forum is also scheduled to host the Entrepreneurship World Cup finals with more than 200 countries, as the competition is the first and largest tournament of its kind in the world. the competition includes cash prizes up to one million dollars.
Biban 23 is also witnessing many launches and agreements that have a direct impact on the entrepreneurial sector in a number of sectors, mainly in technology, tourism, entertainment, culture and sports. In order to support investments in small and medium enterprises and stimulate their growth, in addition to creating many new companies in the local market through various financing solutions that these agreements and launches will provide.